Photos from Indonesia
Photos & text: Erik Pontoppidan, Copenhagen, Denmark.
For Gamelan music from Bali, please click HERE!
Click here to see my digital photos from wonderful Copenhagen.
Click here to see my digital photos from Gambia and Senegal in West Africa, February 2004.
Click here to see my digital photos from a trek in High Atlas, Morocco, September 2003 (text in Danish).
Click here to see selected photos from my numerous travels all over the world.
Click here to read and watch the photo gallery story about my overland trip along The Hippie Trail from Copenhagen Central Station to Kathmandu in Nepal.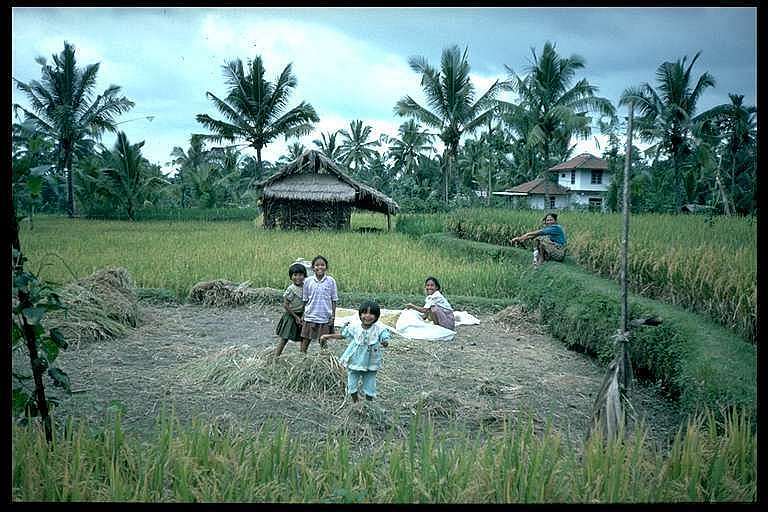 From a rice field on the island of Lombok <





Why Indonesia?





Because Indonesia is a marvellous country! The people are among the friendliest and most hospital I have ever met on my travels, and the country itself has a countless number of strong cultures and religions. You will find all kinds of belief and ways of living in Indonesia ranging from ancient, animistic cultures to the more well-known remnants from the western world like Catholics and Protestants. Most Indonesians are Moslems, but it's a mild form of Islam, very different from the way it's practised in the Moslem countries of the Middle East. And as a tourist, you feel welcome almost everywhere in a nice and relaxed way.

And the nature is fantastic! Many of the islands are covered by chains of high volcanoes - some of them still being very active. You will find rain forest alternating with densely populated areas covered with rice fields. Like everywhere else in the world you can't avoid other tourists, but the country is so big and varied that you may still experience the true adventure. If you keep away from southern Bali, Senggigi on Lombok and a few other places, the only other tourists will probably be friendly and open-minded backpackers, with whom you may share your experiences over a cup of tea or an Indonesian beer at a small guest house. And a last, but important information: The price level for tourists is still extremely low almost everywhere.


Please click on the pictures below for blow up



Above, left: Everywhere in Indonesia, you will find wonderful and very cheap guest-houses like this one, where you may stay as long as you like, having a cup of tea or a beer, enjoying life in a relaxed way. This guest-house is from Ubud on Bali.
Above, middle: When travelling on Bali, you will meet artists of all kinds.
Above, right: Rice fields in the central and very fertile part of Lombok island.




| | |
| --- | --- |
| | |
Above: From a trip with Pelni Ships.

Pelni Ships is a fleet of large boats travelling on fixed routes all over Indonesia. They are the most common way of transport between the major islands for the Indonesians themselves, and each boat is cruising along the same routes for thousands of miles - like M/S Kambuna on these photos, sailing between Sumatra and Irian Jaya, stopping at several ports on the way. However, as a western tourist, you should keep in mind, that the trip is absolutely not a luxury cruise! Normally, the boats are extremely crowded. The photos are from my boat ride between Ujung Pandang on Sulawesi and Suarbaya on Java.
| | |
| --- | --- |
| | |
Above: From my 4-day boat trip between the islands of Flores and Lombok, Indonesia.

I flew from Australia to Bali and continued by buses and boats across Lombok - Sumbawa to Flores in the east. Part of the way back was made onboard a fishing boat from Flores to Lombok together with a group of other rucksack tourists. The trip took 4 days, but we were not in a hurry. On the way, we visited the islands of Rinca and Komodo (famous for the Komodo dragons) and anchored in small idyllic bays where those who liked it jumped into the water and snorkeled. But it was quite OK just to sit on the deck watching the blue mountains of Sumbawa and all the other big and small islands we passed. And at sunrise on day 4, the enormous silhouette of the vulcano Rinjani on Lombok turned up in the misty morning!
| | |
| --- | --- |
| | |
Above, left: From the crater ridge 2.650 meters above sea level at Mount Rinjani, Lombok, Indonesia.
Mount Rinjani offers a fantastic trekking experience on a 3-4 day trip. The summit rises almost 3.700 meters above the wonderful tropical landscape.
The main trail leading to the top starts at the village of Senaru, which is the last accessible site for vehicles. On the way up, you will walk through beautiful mountain forests filled with mystery, mists, lichens and wild monkeys. When you reach 2.000 meters above sea level, the forest disappears and reveals an incredible view!

Above, right: Sunset above the clouds and the forests at Gunung Rinjani, Lombok, Indonesia.
From my tent above the forest, I watched the sun go down into a dune of clouds. In the far distance, about 100 km away, I could see the summits of two high vulcanoes on Bali.

Click HERE to see more photos from Gunung Rinjani.
| | | |
| --- | --- | --- |
| | | |
Above, left: The area around active vulcano Mount Bromo in eastern Java in Indonesia (about 2.300 m. above sea level) is a marvellous area both for interesting local people and nature.

Above, right:
From the lakes of Keli Mutu, Flores.
The coloured lakes of Keli Mutu on the island of Flores are among the most famous sites in this part of Indonesia. The three lakes, set in deep craters at an altitude of 1.600 meters, near the summit of the Keli Mutu vulcano (Keli means mountain) have a habit of changing colour. Most recently, the largest was a light turquoise, the one next to it olive green and the third one black. A few years ago, the colours were blue, maroon and black. Nobody has managed to explain the cause of the colours or why they change, except to suppose that different minerals are dissolved in each lake.
There is a story among the locals that the souls of the dead go to these lakes: Young people's souls go to the warmth of the green lake, old people's to the cold of the milky turquoise one, and those of thieves and murders to the black lake.







Above, left: Family in their rice field on the island of Lombok, Indonesia.
In the central parts of Lombok, around the slopes of the big volcano Gunung Rinjani, you will find a very green and fertile landscape with plenty of rice fields and other crops.

Above, middle: Early morning near the mountain village of Batutumonga in the central highlands of the big island of Sulawesi, Indonesia.
The area around here is excellent for trekking. The countryside is very green, hilly and fertile, with changing rice fields, coffee and bamboo forests, and the air is crystal clear, when the sun is shining. Unlike the coastal areas of Sulawesi, the temperature up here is very pleasant here in Toraja, which the area is called. You will find a culture completely different from any other places in Indonesia. Something very special for the Toraja people is the architecture of their houses.

Above, right: From the lake Danau Tempe near the town of Sengkang, South Sulawesi.
Danau Tempe (danau means lake) is a large, strange, shallow lake fringed by wetlands, with floating houses and a magnificent birdlife. Fishermen are living in the floating houses, which are moved to different parts of the lake depending on the water level during the changing seasons.





Above, left:
Although Bali is visited by a tremendous number of tourists it's still a "must" for foreigners, especially if you haven't been to Indonesia before. The culture of the island is unique for Indonesia, and if you keep away from the southern part of the island around Kuta, there is still a lot of very interesting things to see, both regarding people and nature. Although it's hard to understand, the inhabitants are still very little influenced by the hordes of tourists from all over the world.

Above, middle: Rice fields at Ubud, central Bali, Indonesia.
This wonderful area is the cultural center of the island. The best way to explore it is to rent a bicycle or hike along the numerous small trails in the fields.

Above, right: Bali family near the village of Tirtagangga, eastern Bali, Indonesia. They invited me to stay in their home for a while, and they showed me some incredible ceremonies around the balinese new year.






Above, left: Lake Maninjau is a large and beautiful crater lake 35 km from the town of Bukittinggi, Western Sumatra.

Above, right: From Beach Guest House right at the bank of Lake Maninjau, Western Sumatra - an incredibly nice and relaxed place for backpackers.





Above: Lake Toba on Sumatra is the world's biggest crater lake and one of the most beautiful places in Soust East Asia.





Above, left: Gunung Leuser National Park on Sumatra is an enormous area with tropical jungle, wild elephants and tigers, and it's one of the very few places in the world, where you can still find wild living orangutangs.

Above, middle: Christian, protestant church in the town of Ambarita on Samosir island in Lake Toba, Sumatra.

Above, right: Traditional Minangkabau-house in a village near the town of Bukittinggi, Western Sumatra.









Read my article about Bali in Indonesia in DANISH by clicking HERE!
Read my article about Sumatra in Indonesia in DANISH by clicking HERE!
Read my article about Australia & Indonesia in ENGLISH by clicking HERE!
Read my article about Australia & Indonesia in DANISH by clicking HERE!
Read my article about the climb of Bromo (Java, Indonesia) in ENGLISH by clicking HERE!
Read my article about the climb of Bromo (Java, Indonesia) in DANISH by clicking HERE!


Return to the Photo Gallery main page