In search of The Canary Islands

The 7 Canary Islands offer a diversity of exciting, different landscapes and interesting cultures


Text & photos: Erik Pontoppidan, Copenhagen, Denmark
Copyright: Erik Pontoppidan



Click HERE For Danish version of this page

Click HERE to read about Denmark's only cafť for travellers in central Copenhagen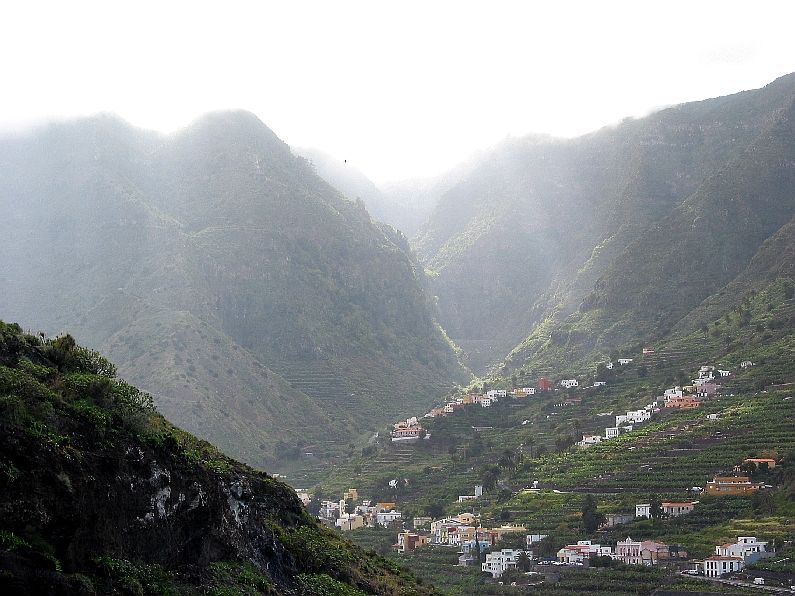 Afternoon sun in the village Hermigua on La Gomera



A visit to the Canary Islands will hardly raise your status, if you want to impress your friends with your travel experience. The islands are one of Europe's most visited charter destinations, and they have bad reputations connected to drinking, sex and exaggerated beach life. However, what the majority does not know, the islands are extremely different from each other and offer a tremendous diversity of landscapes, climate, nature and culture.



I am not skiing in winter, and thatís one of the reasons why I have visited the Canary Islands several times during the winter season. Actually, I am one of the very few, who have visited all the seven islands. To me, it has always been a great feeling to board an aircraft in the Danish winter cold and 5 hours later descend in summer temperatures to landscapes with flowers, mountains and good beaches. And to the majority of those, who only connect the islands with drinking, sex and exaggerated beach life, I have only one thing to say: Go there yourself and visit some of the smaller islands off the beaten track! I will clarify that more detailed below.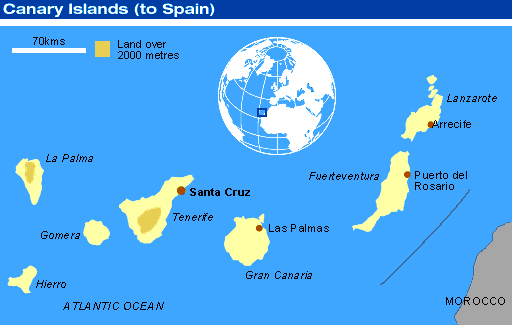 My very first visit to the Canary Islands was in January 1967. I went to Tenerife in the brand new European Super Caravelle from Sterling Airways, which at that time was a revolution in the charter industry. The Super Caravelle belonged to the first generation of jet planes for paying passengers, and it managed to halve the flight time to the islands, with a flight time of only 5-6 hours from Denmark.

The overriding purpose of my first visit to Tenerife was to climb Spainís highest mountain, the volcano Pico de Teide (3,718 meters), which I did on one of the first days. This was a long before the cable car was built, so it was a bit of a performance to make the trip in a single day, and I didnít meet anybody during the climb. The rest of my holiday, I had only scornful feelings about the crowds of charter tourists, who wasted their time on the beach or on guided bus trips!

My second visit to the islands took place 20 years later. In February 1987, I spent two weeks on Lanzarote and Fuerteventura. This time, I brought along my own bicycle in the aircraft. The trip was a mixture of many strange experiences, and it had absolutely nothing to do with mainstream tourism. Just before take-off from Copenhagen, a VIP vehicle arrived to the aircraft with the Danish Prime Minister and his racing bike inside. The poor Prime Minister was forced to be immortalized on group photos with several of the passengers and to receive abuses from political opponents during the 5 hour flight. Regrettably, I never found out, what the cycling, conservative Prime Minister had to do on a charter flight to Lanzarote.

In order to save money, I had booked a double room on Lanzarote, although I was travelling alone. I never do that again! During the first night at the hotel, I was awakened by a Finnish psychopath at 1 o'clock at night. Apparently, he was going to be my room-mate, and just after his arrival, he insisted on starting a conversation about the big things in life. During the following nights, he went hunting for prostitutes at the island's bars and entertained me about salacious details from his nocturnal adventures.

Luckily, I had planned a long bike ride alone to the neighbouring island of Fuerteventura, which can be reached by ferry from Lanzarote in less than half an hour, so I disappeared as fast as I could on my bicycle out into Lanzarote's volcanic landscapes. The first night on my bike trip, I slept on the beach near the ferry port to Fuerteventura. Here, I was awakened early the next morning by a group of soldiers, who apparently had chosen this area for practicing. Luckily, I was neither interrogated nor arrested, but now I thought, that I needed some more traditional holiday experiences. So the first thing I did after entering Fuerteventura was to get drunk at one of the numerous bars in the island's largest city Corallejo. Here, I met a British cyclist with plans similar to mine, so we joined for some days on the roads of the windy island. We slept in the open, and in the evenings, we solved the world situation at a campfire on the numerous beaches. Unlike the majority of the Canary Islands, Fuerteventura has really nice sandy beaches.

After these remarkable travel experiences on Lanzarote and Fuerteventura, I thought that my next visit should be with people I already knew. So around New Year 1987-88, I managed to persuade 3 of my trekking-friends from Denmark to join me on a two-week hike on La Gomera and La Palma. These two islands belong to my favorites. Our small group made a lot of solid hiking on the 2 islands, with accommodation in tents or in small hotels, and we celebrated New Year's Eve at a restaurant in the old hippie town Valle Gran Rey, with fireworks brought from Denmark!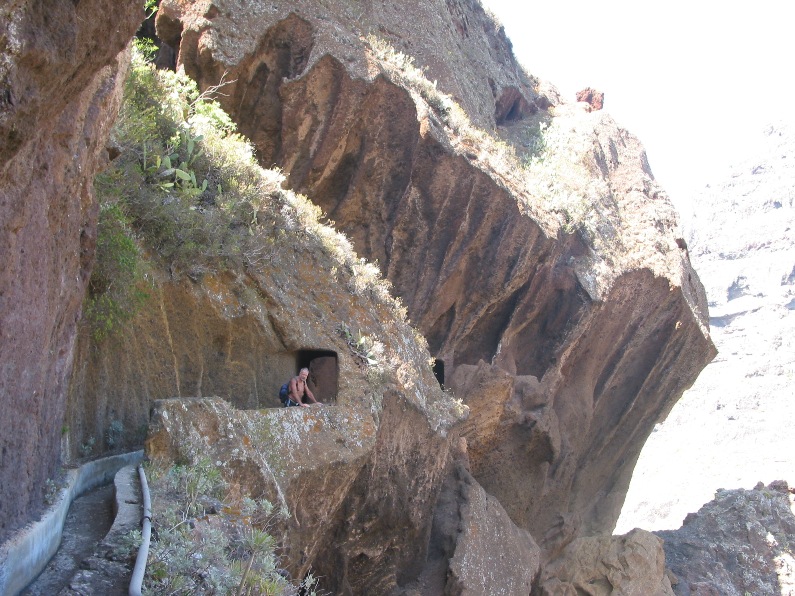 The old irrigation canals or levadas in eastern Tenerife represent a fantastic piece of construction.

Since then, I have returned to both Tenerife, La Gomera and La Palma several times with my girlfriend Elise, where, of course, I acted as guide to my favorite places. And in February 2011, I visited Gran Canaria for the first time. Finally, in March 2012, I managed to persuade one of my friends from the Danish club ďThe Travellers GuildĒ to join me on a two-week hike on the smallest of the islands of El Hierro and Tenerife. Paradoxically, my friend has visited more than 100 countries, but before our trip, he hadnít visited any of the Canary Islands! And I am sure itís not his last visit. We hired a car and a house on both islands, and our trip had by no means the character of mainstream tourism. I consider myself as an incarnate trekker, but rarely have I walked so much in so short time!


Facts about the islands:



The following is a personal but very brief description of the 7 Canary Islands. Basically, I prefer hiking and nature instead of beach and relaxation. In general, Gran Canaria, Tenerife, Lanzarote and Fuerteventura are the islands with mass tourism. The rest of the islands have a more moderate tourism and offer several alternative experiences.



Fuerteventura:
The perfect island for those who prefer good beaches and a relaxed holiday atmosphere. Most of the island is surrounded by attractive beaches, while the central part consists of relatively low mountains with a few small villages.

Lanzarote:
In the childhood of charter tourism in the sixties and seventies, Lanzarote was a very exotic destination. You could buy expensive day trips with flights from Gran Canaria and Tenerife, landing on a desert island with lunar landscapes and the opportunity to ride dromedaries among sulfur-stinking volcanoes. Today, Lanzarote is still very special but by no means exotic. The tourists are installed in chalk-white hotels, making a very strong contrast to the dark lava everywhere on the island, and vegetation is sparse.

Gran Canaria:
This island belongs to the first charter destinations for the European tourists looking for sunny places in winter. There are plenty of good beaches and opportunities for a hectic nightlife, but the island's interior also offers spectacular mountain sceneries with plenty of hiking opportunities.

Tenerife:
The largest of the islands, and it has it everything. The southern part offers good beaches and plenty of nightlife. However, southern Tenerife also has one of the ugliest and most unflattering tourist landscapes you can find. Until the early seventies, Tenerife's south coast was an almost a virgin desert landscape with small idyllic fishing villages. Not so today!

The north side of the island has no good beaches of importance but offers lush and flowery valleys. And the Anaga peninsula to the east offers dramatic mountains and deep ravines, with plenty of hiking opportunities. In my opinion, the island's greatest natural attraction is the highland around Spain's highest mountain Pico de Teide (3,718 meters). It's like landing on another planet. You leave the steaming pine forests and suddenly find yourself in a barren rock landscape of approx. 2,000 m above sea level. This area is called Las CaŮadas and is the remains of a giant crater with a diameter of 17 km.

La Gomera:
Imagine an orange cut 3-4 times in a way, that the parts are almost connected and radiate in all directions. Then you have a fair image of the shape of La Gomera. There are no beaches of importance, but the island has one of the world's most distinctive natural areas. La Gomera is often called ďthe poor manís Nepal", which tells quite a bit about the island's beautiful nature and potential for hiking freaks. The island's highlands is a wonderland of forests with laurel trees covered with mosses and lichens.

La Palma:
Like La Gomera, La Palma is a paradise for nature lovers. The elongated island consists of a backbone of volcanoes, culminating in the huge crater Caldera de Taburiente in the north. The crater has a diameter of about 10 km, and the crater ridge is at about 2.000 meters above sea level.

El Hierro:
This island, which is the smallest and most remote of them all, is a good choice for the individual tourists, who want to be on their own. There is surprisingly little traffic and tourism on the island, which in no way is due to lack of attractions (apart from good beaches and nightlife). Like most of the others, El Hierro is very mountainous, and itís the one of the Canary Islands, which has the most beautiful forests of pinewoods in the heights.


Click HERE, if you want to see the main menu of my homepage, with several links to travelling anbd trekking.
Click HERE, if you want to contact me.