Landscapes of Eastern Greenland

Photos from an expedition near Ammassalik in summer, 1973

Photos & text: Erik Pontoppidan, Copenhagen, Denmark.

For Danish version of this page, please click HERE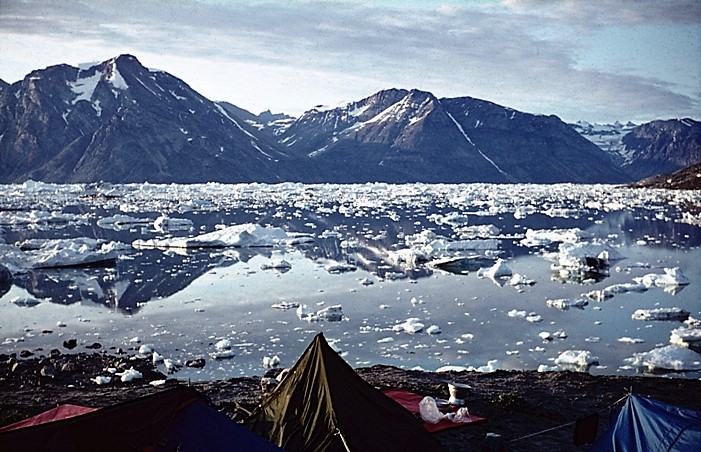 View from my tent at the Sermilik Fjord near Ammassalik, Eastern Greenland.


Please click on the thumbnails below for blow up.



1. We established our base camp in the bottom of this wonderful fjord in Eastern Greenland, Ammassalik district, down at sea level. From there, we made several treks to the surrounding mountains and landscapes.

2. The view from my tent in our base camp in the Ammassalik district, Eastern Greenland.

3. One of our great treks from the base camp went to the Sermilik Fjord. On this photo, we are standing several hundred meters above sea level, admiring the breathtaking view of the thousands of big and small icebergs of the fjord. In the far distance, you can see the beginning of the inland ice of Greenland, towering as a huge, white dome. Trekking westwards in this direction would lead you through 600 kilometers of a desert of ice until you would finally reach the rocks and mountains of the western Greenland.

4. Stranded icebergs at low tide in the late afternoon at the banks of the Sermilik Fjord.




1. View of the Qingertivaq-fjord near Ammassalik, Eastern Greenland. We had our base camp near the bottom of the fjord and spent almost 4 weeks in the area with impressive treks in the mountains.

2. The old DC6 propeller is waiting for take-off at the end of the gravel strip on Kulusuk Island, near Ammassalik.

3. Few minutes later, we are crossing the Sermilik Fjord, admiring the thousands of icebergs.

4. After almost 2 hours' flight crossing the inland ice of Greenland the powerful, metallic, determined, confidental, nostalgic sound of the old DC6 changes to a more relaxed key as we descend to lower altitudes. After the crossing of the flat ice desert, crevasses and small, isolated peaks turn up in the border zone between the ice cap and the land. An isolated peak of this kind is are called a "nunatak" in greenlandic language.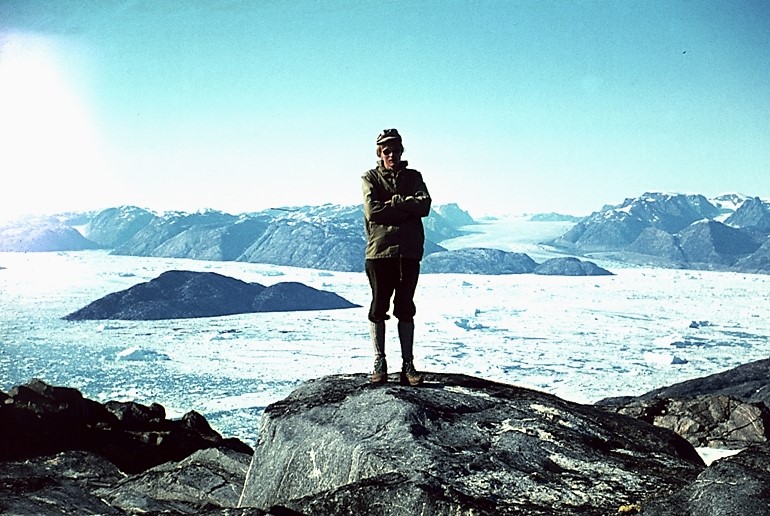 Trekking in Eastern Greenland in summer, 1973. In the background, the icebergs and glaciers of the Sermilik Fjord.

Like the way out, the return trip was quite a complicated transport. We were picked up by a small boat in our base camp and sailed 7-8 hours to Ammassalik. Then with helicopter from Ammassalik to the gravel airstrip on Kulusuk Island. Then with an old DC6 across the inland ice from Kulusuk to Søndre Strømfjord Airport, and finally with the ordinary SAS-flight back to Copenhagen.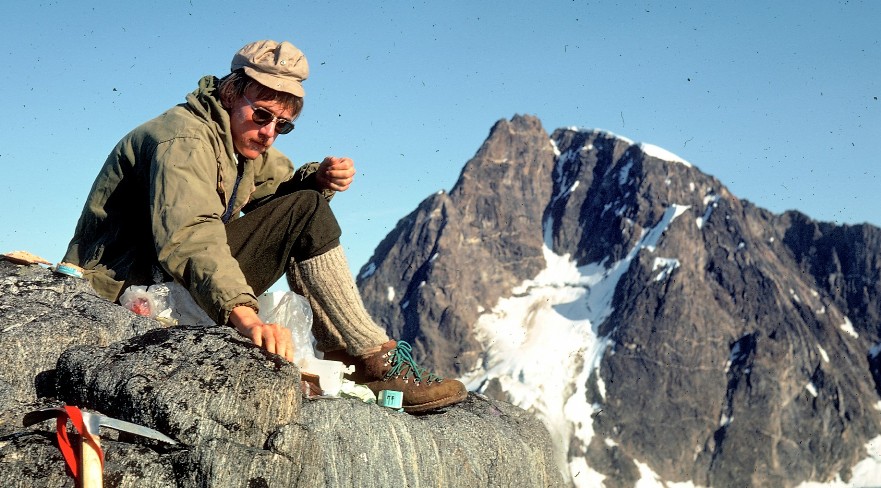 Rest after a successful climb at the Sermilik Fjord, Eastern Greenland, 1973.


Return to the Photo Gallery main page